See David Feherty In-Person at MGM Northfield Park
See David Feherty, one of golf's most prolific and entertaining personalities, live at MGM Northfield Park on Saturday, June 29th!
The event begins at 7:30 p.m. with doors opening 60-minutes prior to the show start time. Tickets can be purchased online by clicking here and range from $49 to $59 per ticket. Don't forget to use coupon code Golfer10 to save $10 off of the price of your tickets!
This is a 21 & over event. Large purses and backpacks are not permitted. Doors open 60 minutes before show time, but guests can enjoy the gaming floor and dining areas before doors. All seats are reserved. No cameras permitted.
Parking is free, valet is also available for a fee. The closest entrance to the venue is the South Entrance.
For more information call please call MGM Northfield Park at 1 (855) 660-7625 or visit the event's Facebook page by clicking here.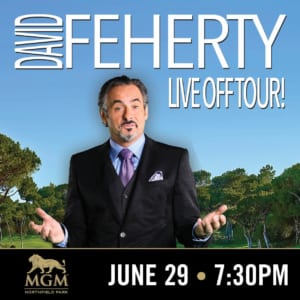 David Feherty (born 13 August 1958) is a former professional golfer on the European Tour and PGA Tour. He now works as a writer and broadcaster with NBC Sports and Golf Channel.
Feherty was born in Bangor, County Down, Northern Ireland. He turned professional in 1976 and spent most of his playing career in Europe, where he won five times and finished in the top ten twice in the European Tour's Order of Merit, placing tenth in 1989 and eighth in 1990. He spent 1994 and 1995 playing mainly on the PGA Tour in the U.S., and the best result on the tour was a second place finish at the 1994 New England Classic. Feherty represented Ireland in international competition and captained the victorious 1990 Alfred Dunhill Cup team. Feherty played for Europe on the 1991 Ryder Cup team.
In 1997, Feherty retired from the tours and began his career as an on-course reporter and golf analyst. Feherty is a contributor to Golf Magazine and has his own column in the back of the magazine called Sidespin. He is also the New York Times and Booksense best-selling author of four books, A Nasty Bit of Rough,Somewhere in Ireland a Village Is Missing an Idiot, An Idiot for All Seasons, and David Feherty's Totally Subjective History of the Ryder Cup. On 21 June 2011, Feherty premiered his own weekly primetime talk show called Feherty on the Golf Channel.
Feherty is also a co-announcer on EA Sports' Tiger Woods PGA Tour series with Jim Nantz and is a periodic guest on Dallas' sports radio station, KTCK. Feherty also appears in advertisements for Bridgestone Golf and Hyundai.
In 2014, Feherty decided to take his act on the road and travel across North America for his new live show Feherty Off Tour – Wandering Around On His Own. His cutting edge style is full of great stories from behind the scenes, a show you don't want to miss. He will be bringing his sharp wit and colorful personality to a city near you! For more information, please refer to the tour page.
Contest Brought To You By The Fairways Golf Membership
Fore more than a decade, The Fairways Golf Membership has provided golfers in Northeast Ohio the best value and variety of any golf membership. With members having access to absolutely Unlimited Golf without time restrictions and four courses to use their membership at, the Fairways Golf Membership allows members to play more golf while spending less than ever before!
The Fairways Golf Membership is Ohio's most proven golf offering for one reason: Because it works for our members. But don't just take our word for it, see what our members are saying by taking a look at our reviews.