A Tradition Unlike Any Other
Following Bobby Jones retirement from golf in 1930, he set out to build his idea of a perfect golf course alongside Clifford Roberts. Jones and Roberts search would lead to a plant nursery in Augusta, Georgia. Upon finding the land, Bobby Jones remarked, "Perfect! And to think this ground has been lying here all these years waiting for someone to come along and lay a golf course upon it."
Bobby Jones and Clifford Roberts then enlisted the help of world-renowned golf course architect Alister MacKenzie to design the course and oversee construction.
What began as a dream was soon realized three years later in 1933 as Augusta National Golf Club officially opened for the first time. The following year would mark the first ever Augusta National Invitational, which would eventually be named The Masters Tournament.
Tournament & TV Schedule
---
Thursday:
11 a.m.-1 p.m. (CBS Sports) / 3-7:30 p.m. (ESPN)
Friday:
11 a.m.-1 p.m. (CBS Sports) / 3-7:30 p.m. (ESPN)
Saturday:
11 a.m.-1 p.m. (CBS Sports) / 3-7:30 p.m. (CBS)
Sunday:
11 a.m.-1 p.m. (CBS Sports) / 2-7 p.m. (CBS)
Today, Augusta National Golf Club is the world's most prestigious golf destination and home to golf's most desirable prize: the green jacket.
It is not just a golf course, however. Augusta National Golf Club is a living monument to golf's past and present. One that comes alive each Spring with blooming azaleas, historic pines and colossal dogwoods. Thunderous roars and an inescapable aura sweep through these historic grounds as the best players in the world compete to join the club of golf's immortals: Masters Champions.
As the 2018 Masters Tournament approaches, the stage is set to be one of the best tournaments yet. With veteran players vying for another major victory and the young crop of talent hoping to prove themselves, the year's first major is setting up to be one to remember.
Welcome to The 2018 Masters Tournament!
Top Moments in Masters History
Jack Nicklaus' Historic Back 9 (1986)
Jack Nicklaus arrived at the 1986 Masters Tournament with 17 victories in major championships to his credit. At the age of 46, many felt as though Nicklaus' final tally for career major wins would end at 17 – the most ever of any golfer to have ever lived.
Jack, on the other hand, managed to pull off one of his more magical wins at Augusta in 1986. Following a third round in which he carded a solid 69 (-3), Nicklaus entered Sunday tied for 9th and 4-shots back of the lead.
He began the final round treading water, with a bogey and birdie through the first eight holes. At the 9th, everything changed and the Golden Bear started to build some impressive momentum with a birdie to turn at 1-under par.
Nicklaus then began his backside with a birdie at 10. And again at 11. As his gallery began to grow, so did the buzz at Augusta National Golf Club. Then, on 12, he made bogey and his charge appeared to be one that would fall just shy of a career 18th major.
That would not be the case, however, as Jack then two-putted on 13 for birdie to rebound from the bogey. Following a par at 14, Nicklaus had 4 holes to play and a legitimate shot to wear the green jacket one last time.
Standing in the fairway at the 15th, he asked out loud if an eagle 3 would do any good. His caddie, son Jackie, said "Let's see it." Of course, he did eagle the hole and followed that remarkable play with birdies on 16 and 17. At 18, Nicklaus would make par and end his round as the clubhouse leader.
Ballesteros, Kite and Norman all faltered as their rounds came to an end. Only Norman had the chance to force a sudden-death playoff with Nicklaus at 18, although he would sail his approach right into the gallery and fail to get up and down for par.
At the age of 46, Nicklaus won his final major and became the oldest player to ever win a major. The back-9 of the 1986 Masters Tournament is undoubtedly one of the most memorable and most recognized moments in all of golf history – and rightfully so!
Tiger Woods Chips In (2005)
One of the most memorable shots in all of golf, let alone Masters history, came our way during the final round of the 2005 Masters Tournament.
Playing alongside Chris DiMarco, Tiger Woods was again in contention on a Sunday at a major championship. As the two headed to the 16th, Woods held a 1-shot lead over DiMarco with just three holes to play.
On the 16th, Woods hit an 8-iron that flew well left of of his target line and placed him left and below the green. At about 50 feet from the hole, even the announcers doubted whether Tiger could get his recovery shot inside of 10 or 12 feet.
But, the greatest champions make the greatest plays in the greatest moments. And the chip at 16 in 2005 would be no different. Woods lined up his chip and planned to spin it above the hole to let it trickle down. Woods did just that, and as his ball traveled down the ridge toward the hole, the roars grew louder until the final rotation of the ball fell into the hole.
The shot is everything that big moments in sports are about. It was The Masters, the world's most prestigious golf tournament. It was the final round, with just two men competing for the victory. It was a shot that would seemingly be impossible to jar. And when he hit the shot, it was a roller coaster of building anticipation and ultimately a climax as the swoosh on his ball rolled end-over-end one final time to drop for a birdie and a 2-stroke lead.
Woods would go on to bogey both the 17th and 18th holes that round – making a playoff with DiMarco necessary. On the first playoff hole, Woods made his birdie putt from 15-feet to win the 2005 Masters.
While everyone will always remember the chip on 16, the poise to birdie the first playoff hole following two bogeys to end his final round is equally impressive.
Bubba Watson's Recovery From Trees In Playoff (2012)
It was 2012 and the PGA Tour and golf fans alike were still getting used to the idea of 'Bubba Golf' as both he and his creative shot making were still new to the world's biggest stage. By Sunday, seemingly the entire golfing world was cheering for the self-taught Watson to bag his first major victory at The 2012 Masters.
Of course, South Africa's Louis Oosthuizen would do his best to deny Watson. Following a double-eagle at the par-5 second, Oosthuizen displayed impressive control and composure throughout Sunday to force a playoff with the non-standard Watson.
On the first playoff hole, Watson hit an errant tee shot far right and into the woods. Dead. That is all that could come to one's mind when seeing where Bubba's ball had ended up and the shot he had to get back into play, let alone onto the green.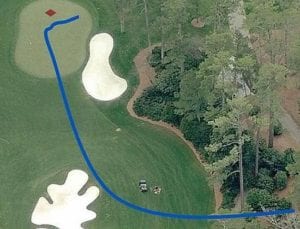 And that's where Bubba did 'Bubba Golf' things. Instead of hitting it back out and to safety, Watson made the shot that most could not even imagine. From the trees on the right, Watson knew he had about 135 yards to the front of the green. He opted to hit a gap wedge, planning to put some zing onto it and hopefully get it near the green.
We all know what happens next: Bubba Watson hit a 40-yard hook with a punch-rising gap wedge that would come to rest about 20 feet from the hole.
"We had 135 [yards to the] front, is the only number I was looking at," Watson said. "I think we had like 164 [to the] hole, give or take, in that area, maybe a little less. And I hit my 52-degree, my gap wedge, hooked it about 40 yards, hit it about 15 feet off the ground until it got under the tree, and then it started rising — pretty easy."
And after that, Watson donned his first of two green jackets.
Mickelson's Gamble On 13 (2010)
When it comes to the past 100 or so years of golf, perhaps no player has exemplified the highs and lows associated with taking big gambles at big moments more so than Phil Mickelson. And 2010 would be no different, as he found himself in the pine straw and behind a tree right of the fairway on 13.
Blocked out from any direct line to either a shot at the green or a lay-up, Mickelson decided to pull 4-iron and take a swing at the green. As Lefty himself explained, it was a calculated risk and the right one to take at that moment.
With his ball sitting atop the pine straw, he knew that the lower the loft of the club, the better the contact and preciseness of his shot would be. He also considered that as a lefty, his shot dispersion would be more favored by the greens shape than the inverse shape of the area to lay up. If he were to push a 4-iron, it would come up somewhat short versus if he were to pull it, it would go long and with some roll. Given that the green is situated in just that way and with a middle pin, Mickelson knew that his mishits were more-or-less covered by areas that would not cause problems.
Knowing this information, Mickelson drilled his 4-iron around the tree with a slight pull and managed to two-putt for birdie. He would go on to win The 2010 Masters – his 4th of 5 major championships to date.
Augusta National Golf Club
Augusta National Golf Club is a test of golf unlike anything else. With short rough that can lull players to sleep and massive and pervasive bunkers guarding greens that undulate more so than just about any you have seen, the demand for distance, accuracy and touch set The Masters apart from any other tournament in golf.
Since it's original design in 1930, distance has been added to the course along with a few new water features to up the difficulty. But, MacKenzie's original design is still well reflected throughout the course.
Hole 1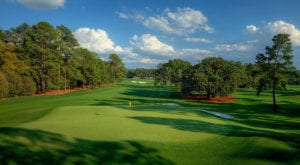 The first hole offers a quick but manageable test right out of the gate. A relatively short par-4, the first places a demand upon accuracy off the tee. And with a formidable green, composure becomes an immediate need for all.
Hole 2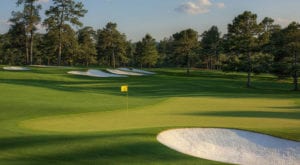 The second offers an early scoring opportunity for players. A par-5, dogleg left that features a downhill approach has been home to a number of eagles and many a birdies over the years. Players will need to have their swing and confidence in tune to take advantage of this critical hole at the beginning of the round.
Hole 3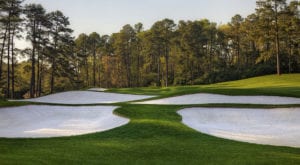 There is no easy hole when it comes to Augusta National, but the third is about as easy as you will find. The classic and short par-4 plays uphill and is protected by four fairway bunkers. The approach shot leads to a narrow green protected by another bunker on the left side. MacKenzie's favorite hole on the course, the third has seen the fewest modifications of any.
Hole 4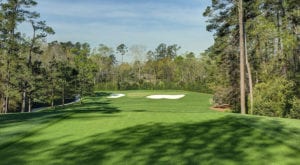 It may seem like an easy, slightly uphill par-3, but the fourth is where the test of golf really sinks its teeth in. Historically, the hole has played the third-toughest of any on the course. With a green sloping back to front guarded by a bunker to the front, players will be required to commit to their shot here. For most, this is an important hole in terms of building the momentum of their round in a positive way.
Hole 5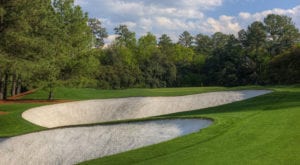 The fifth is a long, dogleg left that is often lost in the shuffle. Playing the fifth-most difficult on the course, this long par-4 requires a great tee shot to carry the bunker on the left. It's fairly straightforward, although that is often not the case for many playing this hole.
Hole 6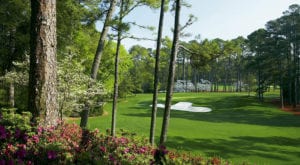 Perhaps my favorite hole on the course, this downhill par-3 is one of the easier holes. The green is tiered, which means that the pin position is of utmost importance for players deciding on their approach to this green.
I was lucky enough to attend the 2012 Masters Tournament and this hole is where you really do notice everything that cameras cannot do justice. It is significantly downhill. The pines seem as tall as a skyscraper. The buzz around this tee was something you could actually feel. I don't know if I can name another hole that I would like to hit a shot on more than this one.
Hole 7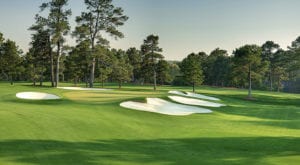 The drive on this tight hole is often played to the left-center of the fairway to set up a second shot from a level lie. From there, a short to mid-iron may be played, but it is important to avoid the three bunkers in front of the green and the two behind.
This hole sets up the easiest stretch of golf on the course and should be attacked as so. Scoring on 7, 8 and 9 is a must for those hoping to win.
Hole 8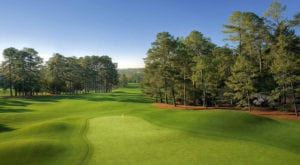 An accurate drive is needed to avoid the fairway bunker on the right side on this uphill hole. The long, narrow green is bunkerless. It is guarded instead by a series of mounds, the biggest of which line its left side.
Shots missing the green will be difficult to get up and down from. This is one of the easier greens putting wise, so players should look to score here.
Hole 9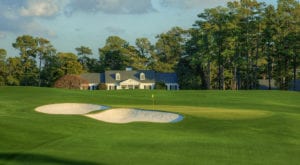 This hole is best known for its green that slopes from back to front. Players often drive down the right side to avoid having to contend with two left greenside bunkers on their second shots.
Originally, the green featured a severe false front that would funnel many a short shot back into the fairway. Today, the false front still exists, but is less extreme.
Hole 10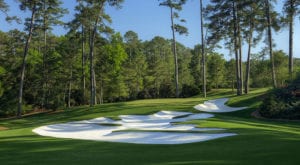 How does Augusta National fight back after the easy conclusion of the frontside? With the hardest hole on the course in terms of stroke average, of course. Originally the first hole, the beginning to the backside plays well downhill as a long, par-4. A nearly 60-yard long bunker along the right fairway and green protect the pin. Here, a green in regulation is practically a necessity for par or better.
Hole 11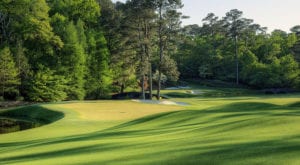 The eleventh offers no relief going forward. Historically, it has been the second most difficult hole on the course. At 505 yards, this long, par-4 will push players to their limits as they enter the world-famous Amen Corner. Playing downhill and to the right, this green is guarded by water short and left. Miss a tee shot inside to the left and this water will be ready to guard against shots not hit perfectly. Prayers up!
Hole 12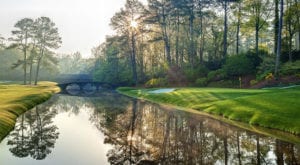 Nicknamed Golden Bell, this par-3 is possibly the most famous in all of golf. Wind is often the story here, as it can shift without warning and makes club / shot selection difficult. Bunkers in front and behind the 'U'-shaped green require accuracy. Players aiming left or right of the bunkers will need to fly it there, as shots coming up short will often roll back and into Rae's Creek. Hole 12 is the catalyst for excitement as it demands perfection and sets up the final stretch.
Hole 13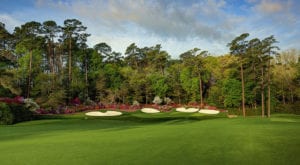 Another par-5 at Augusta National, the thirteenth reflects Bobby Jones vision perfectly. More skilled and better positioned players will have a chance to reach the green in two, while others will need to lay up in front of Rae's Creek. This dogleg left has seen many strategies toward the tee shot with players wanting to avoid an errant shots left that will funnel towards Rae's Creek or shots falling right and into the pine straw. The green sits somewhat perpendicular and is guarded by a bunker on the right half and a set of bunkers behind. The drama at the thirteenth is always some of the best of the tournament.
Hole 14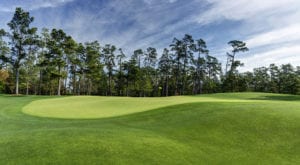 Finish this par-4 well and Amen Corner is in the rearview. While it ranks in the middle of the road as far as difficulty (8th hardest), the fourteenth can easily be overlooked as a realistic scoring opportunity. In years past, the bunker-less and straight hole has been telling of whether a player's charge up the leaderboard is going to go the full way or run out of steam.
Hole 15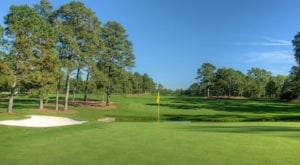 The easiest hole on the course, the par-5 fifteenth will often separate the pretenders from the contenders. Reachable in two, players will need to contend with water in front of the green. Those looking to win will need to make a score of eagle or birdie on the fifteenth a priority.
Hole 16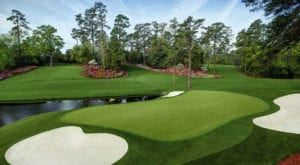 The sixteenth is nearly identical to the twelfth, with the exception that the wind will not swirl in the manner that it does on twelve. Watch for the classic Sunday pin to be set on the the left side about halfway between front and center. Shots on this pin will often land left or slightly long and funnel back to the hole – providing an easy birdie chance late in the round.
Hole 17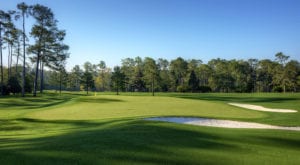 The second-to-last hole used to be home to the Eisenhower Tree prior to its falling in a March 2014 ice storm. Today, the hole plays as a straight and uphill par-4 that is guarded by two bunkers on the left and right. Lofty shots will find better success here given the bunkers positioning.
Hole 18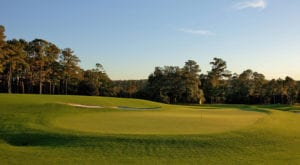 The final at Augusta National Golf Club has been home to many famous moments. Playing as an uphill dogleg that veers left to right, the par-4 eighteenth will test any player. Approach shots need to be well calculated here as the green is deep and narrow, placing a premium on course knowledge and accuracy.
Since Tiger Woods return to professional golf this season, his solid play has catapulted him into being the favorite to win The 2018 Masters Tournament.
With fourteen major championship victories to date and four of those coming at The Masters, the idea of Woods again winning The Masters Tournament in 2018 is not as wild as some would think. Especially when you consider that in the twenty years he has played in The Masters, Woods has finished fifth or better in more than half of those years.
In the five events he has played in 2018, the newly healthy Tiger has looked good and steadily improved from tournament to tournament. He finished T-23rd at The Farmers Insurance Open, missed the cut at The Genesis Open, placed 12th at The Honda Classic, tied for 2nd at The Valspar Championship and tied for 5th at The Arnold Palmer Invitational.
If there were ever a perfect way for the now 42-year old Woods to solidify his comeback, it would be with a win at The Masters. To give himself a chance to do so, Woods needs to improve the driver accuracy. His short game has been phenomenal thus far, and if paired with a competent or better driver swing, could be the deciding factor come Sunday at Augusta National Golf Club.
Dustin Johnson did not play in last year's Masters Tournaments after he fell down some steps in the house he was renting near the course. Currently, DJ is the top-ranked golfer in the world and coming to Augusta National following some solid play through the early part of the season.
In just six starts, Johnson has finished within the top-ten on four separate occasions. While Johnson does only have one major championship to his credit, he has proven himself to be a consistent contender across all of the major championships. Add in that he has notched the second-most World Golf Championship victories (five) of any player, and it is easy to see that DJ knows how to show up and play well in big events.
Since his suspension in 2014, Johnson has been on an absolute tear that has included nine wins in the past four years.
What's next for Johnson? It could very well be a Masters win in 2018.
Things have quieted down for Spieth since he won back-to-back majors in 2015 – which could be of a big help for him moving forward.
Last year's Open Championship winner and three-time major champion, Spieth comes to Augusta National Golf Club hoping to right the ship and again find himself in contention late into the weekend.
In his four total starts at The Masters, Spieth has finished T-2nd, 1st, T-2nd and T-11th. If nothing else, it is more than obvious that this tournament sets up about as well as any.
In 2018, Spieth has struggled out of the gate. In eight starts, he has just two top-ten finishes. Known to be a strong putter, Spieth has lost favor with the short stick in recent months – ranking just 87th in putting.
Keeping the ball in the fairway and cleaning up his approach game will be key for Spieth. Returning to the sight of his first major will likely improve his putting stroke, but giving himself chances to score early will be the key. As we have seen, Spieth's game is easily influenced by momentum, whether that be good or bad.
Last year's Player of the Year and PGA Championship winner, Justin Thomas comes to The 2018 Masters Tournament as a strong favorite to win.
Through the beginning of the 2018 PGA Tour season, Thomas has added two more tour wins to his tally. In the nine tournaments he has played, Thomas has not finished outside of the top-25, let alone missed a cut.
Currently, Thomas is ranked 2nd in the Official World Golf Rankings. However, he has never finished higher than 22nd at The Masters.
While he is a notoriously strong scorer (3rd on tour in 2018), his driving accuracy can get him into trouble on a course like Augusta National. He is averaging 312 yards off the tee, but hitting fewer than 60% of the fairways. He will need to improve those numbers to win his second major championship of his young career this April.
Justin Rose is off to a phenomenal start in 2018 and has shown no signs of slowing down. Last year, Rose lost in a playoff to Sergio Garcia. Given the schedule he has played and the overall sharpness of his game, it is fair to infer that Rose has been prepping himself towards winning The Masters this year following last year's disappointment.
Most recently, Rose won the WGC-HSBC Champions tournament near the end of 2017. In 2018, he has performed well. He finished T-5th at the Valspar Championship and 3rd at the Arnold Palmer Invitational.
Add to his strong start of the season Rose's previous Masters finishes of T-2nd, T-10th and 2nd, and the possibility that Rose wins this year's Masters Tournament is as strong for him as anyone.
The winless drought is over following Mickelson's win at the WGC-Mexico Championship in early March. Not only did he find his way back to the winner's circle, but he held off Justin Thomas in a playoff to do so.
In his eight starts so far this season, Lefty has carded five top-10's. It's obvious that Phil Mickelson has been working hard on his game and it's showing with improved stats across the board.
As father time sets in, Mickelson will vie for another opportunity to win The Masters. Currently 2nd in strokes gained total, it is not hard to imagine him winning his fourth green jacket.
The difference in Bubba Watson's game between 2017 and 2018 has been night and day. Before this season, Watson last won in February of 2016. In the time between that win and his first win in 2018, it was clear that Watson was dealing with signifcant internal struggles. From being disliked by his peers to his lofty expectations, dealing with failures to managing his ADD, 2017 was anything but easy for Bubba.
Fast forward to 2018 and Watson has bounced back in a way that few ever have. With wins at both the Genesis Open and the WGC-Dell Match Play Championship, he returns to Augusta National with hopes of winning his third Masters Tournament.
Obviously, when it comes to Bubba Watson, it is all about his rhythm and confidence. Could 'Bubba Golf' again best the rest of the field? It is a definitive possibility given what he has achieved thus far in 2018.
Day has been less of a fixture on tour in the past 18 months as he has been dealing with some health issues within his family.
The former top-ranked golfer in the world, however, appears to be in a good place in regards to the 2018 season. Recently, he won the Farmers Insurance Open to jumpstart his season. He has played in six events heading into The Masters, placing in the top-25 in five of those tournaments.
One of Day's greatest and often most underrated strengths is his proficiency with the driver. He is currently 10th on tour in driving distance and 33rd in driving accuracy – a deadly combination when it comes to The Masters. Add in that Day is 1st on tour in strokes gained putting and it's easy to imagine Day wearing a new green jacket come Sunday.
Rickie Fowler has always been a popular pick to breakthrough and win The Masters. In his seven starts at Augusta National, he has made the cut five times and managed two top-10's.
Fowler's last win on the PGA Tour came more than a year ago in February of 2017. In order for Fowler to give himself a chance this week, it is going to come down to his ability to give himself opportunities to score.
In 2018, he is hitting 71% of greens in regulation or better. While that mark is fantastic, his proximity to the hole is averaging 37 feet. Many will point to his putting as his issue, but the truth is that he is having to lag putt a majority of his first putts and that, of course, makes it difficult to score.
At 29-years old, time is ticking for Fowler to become a major champion. He is no longer a young-gun on tour. It is proving time for Fowler in 2018.
At just 23-years old, Jon Rahm of Spain has already made a splash on tour. Currently, Rahm is ranked 3rd in the Official World Golf Rankings.
Rahm has already won twice on tour, including the 2018 Career Builder Challenge in January. This will be Rahm's second go at Augusta National. In his first Masters Tournament, Rahm finished T-27th.
With finishes of T-52nd, T-20th, T-26th and T-11th in his previous four tournament, Rahm's game is trending in the wrong direction. He is also known for doing a majority of his damage off of the tee as a long hitter. That said, he is only hitting 57% of potential fairways.
I would not be surprised to see Rahm improve upon his T-27th finish in last year's tournament. I would be surprised to see him find the winner's circle. Winning, especially when it comes to majors, takes time and experience. Rahm is still young, so I think this will prove to be a good learning experience for him. Then again, he has the skill to get it going and put himself in contention.
Last year's Masters Champion, Sergio Garcia is again off to a great start this season. With the weight of 'will he ever win a major' having fallen off his shoulders, Garcia has finished in the Top-10 in three of the four events he has played this year.
His finishes have been solid, but his scoring average and sand save percentage are all the more impressive. In fact, he is ranked first on tour in both of those categories. And those are two statistics that carry significance when it comes to The Masters.
Sergio's infamous putting woes have returned somewhat, which is reason for concern heading into the year's first major. Also, Garcia and his wife recently welcomed their first child a couple of weeks ago. Welcoming a child to the family could certainly make focusing the way a player needs to difficult.
A back-to-back Masters Tournament win would be spectacular, but given the putting and focus upon adding a child to his family, it is not something many will expect of the tour's most prominent European mainstay.
When Rory McIlroy gets it going, watch out.
Following an injury-plagued 2017, golf fans were again reminded of the kind of tear McIlroy is capable of going on during the final round of The Arnold Palmer Invitational.
Rory comes to Augusta National with four majors to his credit and is only missing a Masters Tournament win to complete the career grand slam. In his previous four starts, McIlroy has finished T-8th, 4th, T-10th and T-7th respectively.
He may be streaky, but he has plenty of experience playing in The Masters. One of the best drivers on tour, McIlroy possesses the ability to bring any par-5 to its knees – a major factor at Augusta National.
And Rory has been listening to the criticisms. Comments regarding his commitment to professional golf, his want to continue winning and whether he can be great are almost certainly in Rory's mind. Unlike Tiger Woods, he took the proper time off when injured, and I would not be surprised to see him back with a vengeance all-season long.
Thomas Pieters has primarily played on the European Tour throughout his career, although he is becoming more of a staple on The PGA Tour. While the 26-year old has yet to win in America, he does already have three European Tour victories.
Pieters first played in The Masters last year and notched an impressive T-4th finish.
His 2018 campaign has lacked the big results he is hoping for, but there are some positive signs. In the seven events he's played in on the PGA Tour this season, he has yet to miss a cut. That said, he does have just one finish in the Top-25. He is clearly not making the swings he needs to, but is still finding a way to get to the weekend without his best stuff.
A return to Augusta National could catalyze Pieters to return to his 2017 form and potentially make a run at winning the year's first major.
Henrik Stenson can be one of the hardest players in the world to beat when he is on his game. And he has been on all-season long.
The 2016 Open Champion and 15th ranked player in the world enters the first major of the year with hopes of improving upon his best finish at The Masters. In the twelve Masters Stenson has competed in, he has never finished in the top-10. His best finish came in 2014 when he finished T-12th.
In his previous four tournaments, Stenson has fininshed T-2nd, 17th, missed cut and 4th. Also, he is hitting 78% of potential fairways, which has made his approach accuracy all the better. Through 2018, he is averaging .901 strokes gained putting.
All of those statistics point toward a successful run at a green jacket this April for the 41-year old Swede.
Matt Kuchar always seems to be right there in contention on Sunday at The Masters. In his previous six Masters appearances, Kuchar has finished in the top-10 four times.
Still searching for his first major, Kuchar's game sets up best to breakthrough at Augusta National. Most recently, he finished T-9th at the WGC-Dell Match Play Championship.
Coming into this part of the season with a good rhythm and an always reliable short game, Kuchar winning would not be shocking. At 39, it's more now-or-never for Kuchar than it has ever been.
The 35-year old South African is often a popular pick when it comes to The Masters – and for good reason.
In his nine Masters appearances, Oosthuizen has made the cut five times. In those five tournaments that he has made the cut, his finishes have ranged from 2nd to 25th. When he makes the cut, Oosthuizen fares well at Augusta National and is always in the mix on the weekend.
The 2010 Open Champion is off to a solid start this season with three top-10's in just five events. Oosthuizen is a strong and accurate driver off the tee and also possesses great scrambling ability. Those attributes paired with his reliable putting set up well at Augusta National.
He's a bit of a dark horse to win The Masters, but it would not be surprising to see him notch his second-career major victory.
Snedeker suffered a sternum injury in the middle of 2017 that kept him out of professional golf for about 6 months. In the time since then, Snedeker has fallen out of the Top-50 of the OWGR, meaning that he needs a strong showing at The Shell Houston Open in order to qualify.
But, if Snedeker does qualify, there is reason to believe he will play well. Through 2018, he has three top-25's. His game is trending in the right direction, and there's no reason to believe he won't be back to where he was prior to his injury.
Plus, I took Snedeker at 100/1 odds when my buddy was in Vegas, so I would be very appreciative of him qualifying and winning. Strong personal bias here.
Primarily a European Tour player, Matthew Fitzpatrick is somewhat unknown to many American golf fans. At just 23-years old, Fitzpatrick returns to Augusta National this April for his third appearance at The Masters.
Strong showings in 2016 and 2017, where he finished T-7th and T-32nd respectively, should have Fitzpatrick feeling confident heading into the year's first major. Add in respectable finishes of T-9th, T-30th and T-36th in the three most recent World Golf Championships and his European Tour victory in September, and it is easy to make a case for Fitzpatrick being a strong pick at The 2018 Masters Tournament.
He can struggle off of the tee somewhat, which can cause more than a few problems at Augusta National, but his adept touch with the putter often bails him out. As a whole, Fitzpatrick's track record heading into this Masters mirrors that of Danny Willet's prior to his 2016 Masters win.
Patrick Cantlay will return to The Masters for the first time in six years. When he last competed here, he won the award for the tournament's low-scoring amateur. A lot of time has passed, but Cantlay appears to be on the right track both personally and swing wise.
Cantlay most most recently won the 2017 Shriners Open this past November. Since then, he has carded five top-25's and no missed cuts in eight events. Currently, Cantlay ranks 31st on tour in strokes gained total, 1st in first-round scoring average and 7th in par-5 scoring average. With his ability to come out of the gates strong and take advantage of par-5's, the case for Cantlay is not a difficult one to make.
Cantlay winning his first major at Augusta would also make for a great story. In 2013 and 2014, he was sidelined with a back injury that derailed his career progress for a short time. In 2016, his high school teammate, friend and caddy, Chris Roth, was killed in a car accident. It has been more than a trying few years for Cantlay, and a breakthrough at Augusta National this April is something we can all cheer for.
Tiger Woods
I have been wearing a Tiger Woods watch since 2000. Of course I am going to pick Tiger to win The Masters!
Justin Thomas
The guy is on fire this year. He has been playing great golf on a very consistent basis for about a year or so now. He got off the schnide by getting his first major win at the PGA Championship last year. This will help a ton with being able to perform on that type of stage having been there before. He seems to be in contention or winning almost every week. 
He has drawn the ire of some fans after booting that dude for hollering at him at the Honda Classic. I think he will be pretty stable and won't have to deal with any distractions at the Masters. Most people who attend the Masters are golf purists and I know that obnoxious behavior is not tolerated so he won't be dealing with any hecklers this week which could help his case. He has the length and the guts to make it happen. The only thing that hurts him is his lack of experience at Augusta. Lack of experience could also be a good thing because he doesn't have the demons that might haunt him like they do Jordan Spieth coming down the stretch or Dustin Johnson going down the stairs.
Justin Rose
He came up just short of winning in 2017 and has done nothing but bounce back strongly since. He is playing phenomenal golf over the past few months and has become a staple on the first page of the leaderboard. He is motivated to finish the job this time and I believe he will do just that.
Justin Thomas
It took everything out of me to not pick Tiger, but no one can deny how dominant JT has been over the past year. That dominance will continue with him putting on the green jacket on Masters Sunday this April.
Matt Kuchar
Who doesn't love to root for 'Kuch'? Seems like he's always in the running for a major but comes up just short of grabbing the title. He's finished in the top ten four times in the last six years at Augusta. This is the year Kuchar stays on top and grabs his first Green Jacket.
Share Your Thoughts Below
Let us know your opinions regarding The 2018 Masters Tournament