Join Us on October 24th
2019 Members Day at Elyria Country Club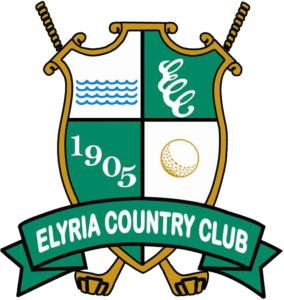 As a special offer to all current Fairways Golf Members, you now have the opportunity to play Elyria Country Club on Thursday, October 24th.
Elyria Country Club, founded in 1905, is one of the westside's very best private clubs. Noted as one of the most scenic and enjoyable course layouts in the entire state, Elyria Country Club finds itself on more than a few golfers' bucket lists. 
The course is a stern test for golfers of all ages and abilities, playing to 6,750 yards from the championship tees. Tree-lined from start to finish with water coming into play on ten holes, ECC is a remarkable example of Flynn's ability to design natural-looking, thought-provoking courses that continue to challenge and delight golfers of all abilities.
Now, you have the chance to get out on the course and enjoy a fun-filled day as a Fairways Golf Member! Consider this just one more perk of being a Fairways Golf Member.
For this event, we will be doing a shotgun start at 12 pm on Thursday, October 24th. Prior to the shotgun start, lunch and cash cocktails will be provided and begin being served at 11 am. Range balls will also be available for you to warm up before the shotgun start at noon.
If you have any questions or concerns, please feel free to reach out to us at (440) 748-8231.
---
$80/Player Includes the Following:
•  18-holes with a Cart at Elyria Country Club on October 24th
•  Buffet lunch and cash cocktails at 11 am prior to the start of your round
•  Pre-round range balls to warm up
---
Also, there will be an outdoor "turn bar" that will be open (weather permitting) for you and your group to use if you would like. Be sure to bring cash with you as cards cannot be accepted for any additional purchases you may want to make.
*Fairways Members are permitted to bring guests with them on October 24th. It probably goes without saying, but If you are planning to bring a guest, please know that your guest and their conduct is ultimately your responsibility. We have never had any issues with this in previous events, so we do not anticipate this being a problem this time around either.
Spots will sell out – Register sooner than later!
About Elyria Country Club
Our Club is one of the oldest private country clubs in the State of Ohio, having been founded in 1905. However, our modern facilities and youthful energy give it a contemporary feel. It's the perfect blending of both turn-of-the-century values and state-of-the-art conveniences.
The 18 holes were laid out in 1925 by William Flynn, one of this country's most renowned golf course architects. Mr. Flynn also designed Cherry Hills (Englewood, CO), The Country Club (Brookline, MA) and Shinnecock Hills (Southampton, NY), all of which have been sites for the U.S. Open tournament.
As a family-oriented organization, Elyria's reputation is unequalled. In fact, some families have been enjoying The Club's hospitality for several generations. We are, however, always interested in having new families join us to grow and enrich our membership.
We are proud to have Michael Symon, Iron Chef winner 2007, as our food and beverage consultant at Elyria Country Club. The exquisite dining and banquet rooms are ideal for formal or casual dining. Our Executive Chef, Brian Okin, caters to your love of good food with a menu that features the best in contemporary cuisine.
When golf is not on your agenda, Elyria CC offers a range of other activities, including fitness center and outdoor swimming pool. We have over 30 planned social events for the family. Popular events include, 4th of July Fireworks, Easter Brunch, Mother's Day, Family Holiday Party with Jungle Terry, Wine Dinners, Elyria Day and many more.
Elyria Country Club exists primarily because of the Worthington Ball Company of Elyria then known as Worthington Mfg. Co. In 1903 acquired the entire line of golf equipment from Hunt Mfg. Co. of Massachusetts. In that line, were the "Haskell" patents on the first three-piece wound rubber golf ball, a ball that was developed by Clevelander Coburn Haskell in collaboration with an engineer from B.F. Goodrich in Akron in 1898. The ball they produced was dubbed "Bounding Billie" and it completely changed the game from the way it was previously played using the solid "gutta-percha" ball. Walter Travis won two U.S. Amateurs and Sandy Herd won the British Open with the new ball.
In short, Worthington executives, Dr. Bert Sanders and Sol B.Leonard wished to promote their business by establishing golf in Elyria. Fifty interested members attended a meeting in 1904, an astonishing number considering only two Elyrians, William N.Gates and F. Stacey Miller had ever played the game.
The birthday of Elyria Country Club was April 18, 1905 and its first elected Board President was Arthur L. Garford, a very successful wealthy Elyria Industrialist and inventor who held many patents including the first bicycle saddle. He was also a close friend of President Theodore Roosevelt for whom he helped get elected to a second term.
The golf course for many years until 1925 was a 9-hole layout until purchases of land enhanced by the flowing "Black River" made it possible to expand. The famous renowned golf course architect, William S. Flynn of Ardmore, Pa. was contracted to design and develop 18 new holes on 161 acres. The new course opened on July 4, 1926. The first foursome used gold-plated golf balls, courtesy of the Worthington Ball Co. of Elyria who were later to become the largest producers of golf balls in the World.
The original converted farmhouse redesigned as the clubhouse burned to the ground in August 1947 and a new beautiful one built and opened in June 1950. It was further renovated and expanded in 1997. A new swimming pool replaced the previous 42 year old one in 1994. Elyria Country Club is among the few 100 plus year old clubs in the State of Ohio that sits on it original property.
Conversations about the greatest golf course architects of all time, tend to focus tends to fall on names like Alister Mackenzie, Donald Ross and C.B. Macdonald. Often overlooked is William Flynn, a fitting legacy for a man who had an uncanny ability to blend his manufactured features with the natural landscape.
Elyria Country Club (ECC) is the creative vision of William S. Flynn, one of America's premier golf course architects. A founding partner of the renowned Philadelphia School of Design, Flynn produced plans for some sixty courses nationwide; two others in the Cleveland area (The Country Club and Pepper Pike CC) along with well-known national venues Shinnecock Hills CC on Long Island which is home of the 2018 United States Open, the Homestead's Cascades Course in Virginia, and Cherry Hills CC in Colorado.
Built in 1925 during the "golden age" of golf course design, ECC is an exceptionally beautiful 18-hole course that plays to 6,750 yards from the championship tees. Tree-lined from start to finish with water coming into play on ten holes, ECC is a remarkable example of Flynn's ability to design natural looking, thought provoking courses that continue to challenge and delight golfers of all abilities.
Elyria Country Club offers a fully stocked Golf Shop containing the latest trends in golf apparel and equipment. From May through October, Tony Hoover and his staff conduct a full complement of events for both men and women. Some highlights of the ECC golfing season include: Men's and Women's Opening Day Events, Spring Guest Day, Men's Invitational, Flynn Cup, Club Championships, ECC Caddie Pro-Am, Couples Invitational, Men's and Women's Closing Day Events, ECC's Renowned Golf Clambakes, and much more.
As we are all guests of Elyria Country Club on Thursday, October 24th, it is important that each golfer playing that day adhere to the club's dress code:
No denim should be worn (jeans, jean shorts, etc.)
A collared shirt is required at all times.
Bermuda  or khaki shorts should be worn. Khaki, slacks or golf pants are acceptable as well.
No metal spikes are permitted on the course.